In-Person vs. Not In-Person Tattoo Consultations
07.06.16
Earlier this week, Cap1 Tattoos discussed why to have a tattoo consultation. Now, Cap1 Tattoos in Denton, Texas is going to talk about the pros and cons of having an in-person consultation vs. not in-person, as well as when one is better than the other.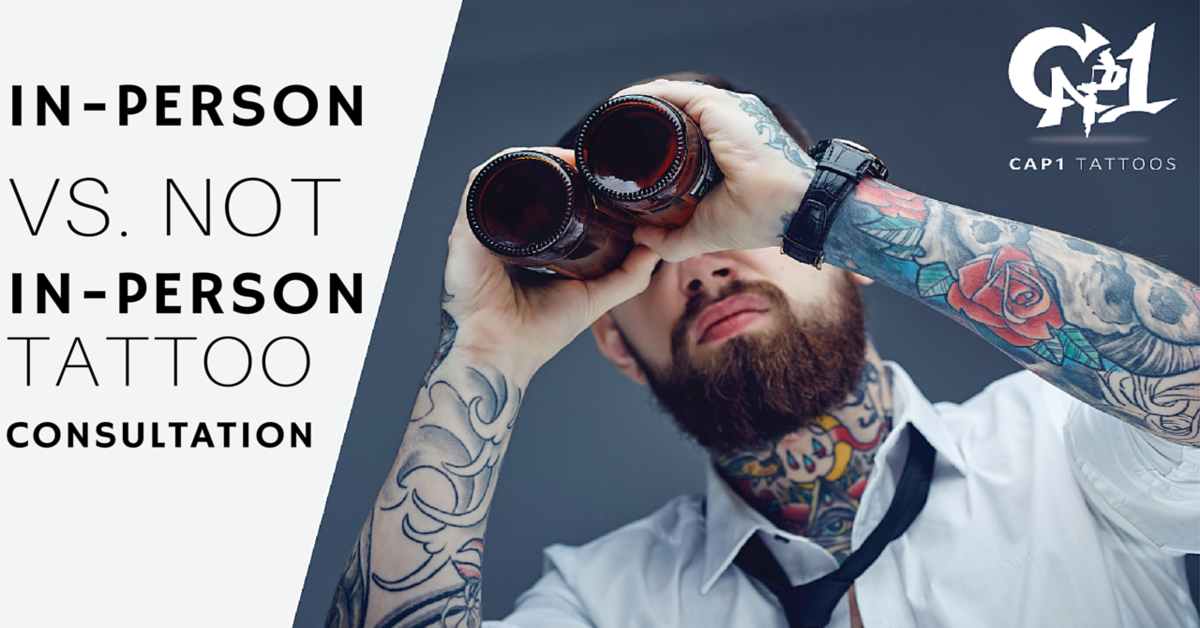 In-Person Consultation
There are a lot of benefits to having a consultation with your artist in-person. Being face-to-face allows you to get comfortable with your artist, as well as easily discuss the specific details of your tattoo such as size, design, placement and color.
The only issue that can arise with an in-person consultation may be scheduling it. If you have a very busy schedule, then it may be better to do your consultation over the phone and email. However, Cap1 Tattoos is able to do consultations 7 days a week and can usually work with your schedule.
Not In-Person Consultation
Do your consultation through email and talking on the phone can be great if you live in another state, or are just unable to come out to Denton. To make up for not being able to meet in person, your artist may add a complimentary hour onto your appointment for final revisions. This way Cap1 Tattoos can ensure that you're getting exactly what you want.
One of the disadvantages of not doing your consultation in-person is that you don't get to meet your artist beforehand. However, this isn't much of an issue to some people and if you are a repeat client of Cap1 Tattoos, then an in-person consultation may not be as necessary.
At the end of the day, it all depends on your comfort level with your artist. If you're comfortable with your artist and they have a firm grasp of what you're wanting, then there may not be much of a need to meet in-person before your appointment date. With that being said, Cap1 Tattoos loves to meet our clients beforehand because we believe that every tattoo is a work of art. So, whether you're looking to get your first tattoo or your fiftieth, contact Cap1 Tattoos in Denton, Texas today to set up your person artist consultation.