Color vs. Black and Gray
08.12.16
When it comes to getting a tattoo, the biggest thing to think about is whether or not you want the tattoo to have color or simply be black and gray. Some designs look better without color. However, the decision is ultimately up to you, the client. To help you make an informed decision on which to go with, Cap1 Tattoos in Denton, Texas is sharing the pros and cons of getting a color tattoo vs. a black and gray tattoo.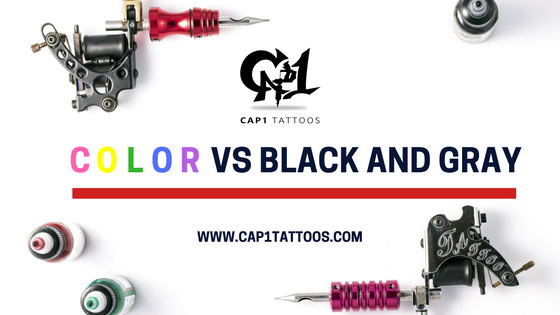 Pros of a Color Tattoo
The best benefit of having a color tattoo is simply that it has color! This means it will be more vibrant and will easily make a statement. Color tattoos are bright, vibrant and allow for unlimited color combinations and creativity. To make sure you're choosing the right colors, take a look at Cap1 Tattoo's guide to choosing the right colors for your skin tone.
Cons of a Color Tattoo
While color tattoos are much more vibrant, their biggest downside is that they take longer to complete and will be more expensive. It's also likely that they'll take multiple sessions, whereas the same design in black and gray could be done in a single session. In addition, if you're outside in the sun a lot, the colors have a greater chance of fading and will inevitably need to be touched up.
Pros of Black and Gray
What's great about black and gray tattoos is that they can be completed in a much shorter amount of time yet still contain a lot of detail. Using tone, texture, shape, composition and weight, Cap1 Tattoos can give your black and gray tattoo the illusion of being three-dimensional.
Cons of Black and Gray
The negatives to a black and gray tattoo are few and far between. You can never go wrong with a black and gray tattoo, as long as you choose an artist that has proven their ability to create immaculate black and gray body art.
If you're still on the fence as to whether you want to have color in your tattoo or go with the original black and gray route, that's fine. When you schedule your private consultation with Cap1 Tattoos, you can discuss the specific pros and cons of each for your tattoo. To see what Cap1 Tattoos near Dallas, Texas can do, take a look at the tattoo gallery.