Rescheduling and Canceling Tattoo Appointments
08.26.16
Cap1 Tattoos in Denton, Texas understands that things happen and you may need to reschedule your tattoo appointment. However, there is a right and wrong way to go about doing so. Today, Cap1 Tattoos is sharing the proper way to go about rescheduling and canceling tattoo appointments, as well as the repercussions of doing either with Cap1 Tattoos.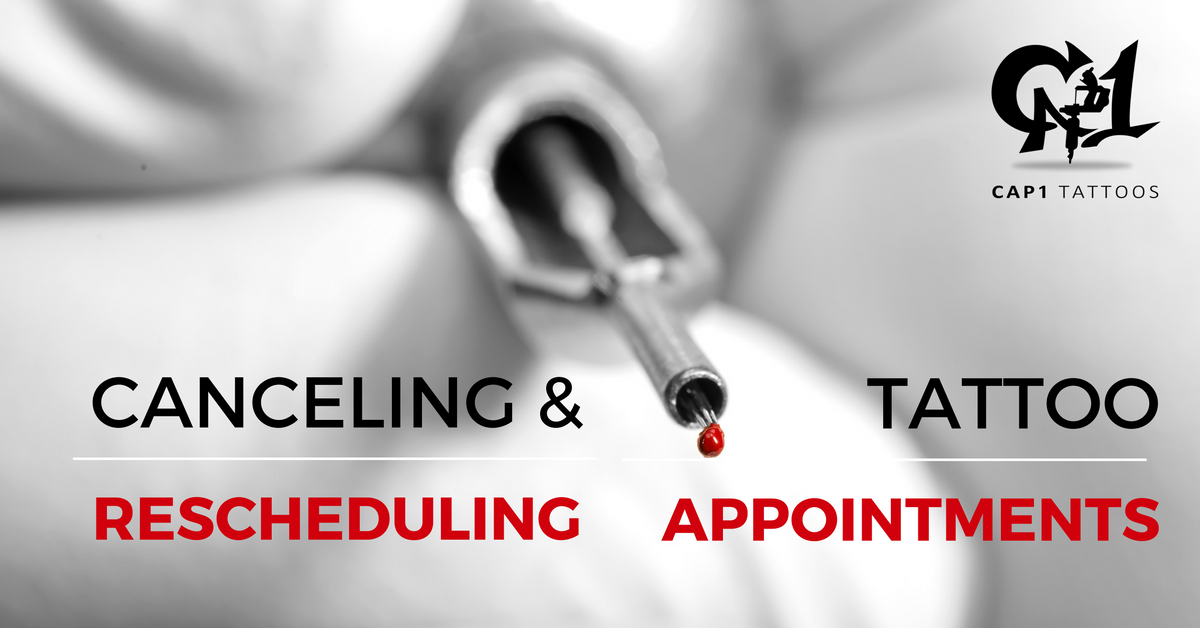 Rescheduling
When it comes to rescheduling your tattoo appointment, the most important thing is timing. You can never reschedule too early. Cap1 Tattoos asks that you give at least a one-week notice before your appointment. However, Cap1 Tattoos also sets our appointments 3 – 4 months out. That means if you do need to reschedule, don't be surprised if we aren't able to find a spot for you right away.
Depending on your tattoo, we may be able to get you in quickly, or you may be pushed back a couple of months. Cap1 Tattoos allows you to reschedule up to two times. After that, you forfeit your deposit and will have to put down another deposit if you set another appointment.
Canceling
Same as rescheduling your appointment, Cap1 Tattoos asks that you cancel your appointment at least one week before. This way, the artist can have enough time to find someone else to fill your slot. Cap1 Tattoos understands that emergencies happen. However, please be considerate to the artist because they are setting that specific time out of their day to focus solely on you. Regardless of how early you cancel your appointment, your deposit is non-refundable so you will not be able to get that back.
A tattoo is a commitment and Cap1 Tattoos in Denton, TX takes our appointments very seriously. Do yourself and the artist a favor and make sure that the date you set for your appointment is completely open and that you will be able to be there. Your artist is depending on you to be there on the day and time you have scheduled. If you would like to schedule a private consultation, contact Cap1 Tattoos near Dallas, Texas today.