Denton Square Business Highlight: Recycled Books
09.21.16
Cap1 Tattoos is currently located within the Dark Age Tattoo Studio on the Denton Square. When you come for your appointment, you'll meet with you artist for any final decisions about your design. Then, they will go back and create your design. This process can take a couple of hours, so having something to do to occupy your time would be nice. Thankfully, there are plenty of things to do on the Denton Square. Last month, Cap1 Tattoos talked about enjoying a cup of coffee at the West Oak Coffee Bar. Now, we're shining the light on a place that's perfect for those who love to discover new and old things – Recycled Books.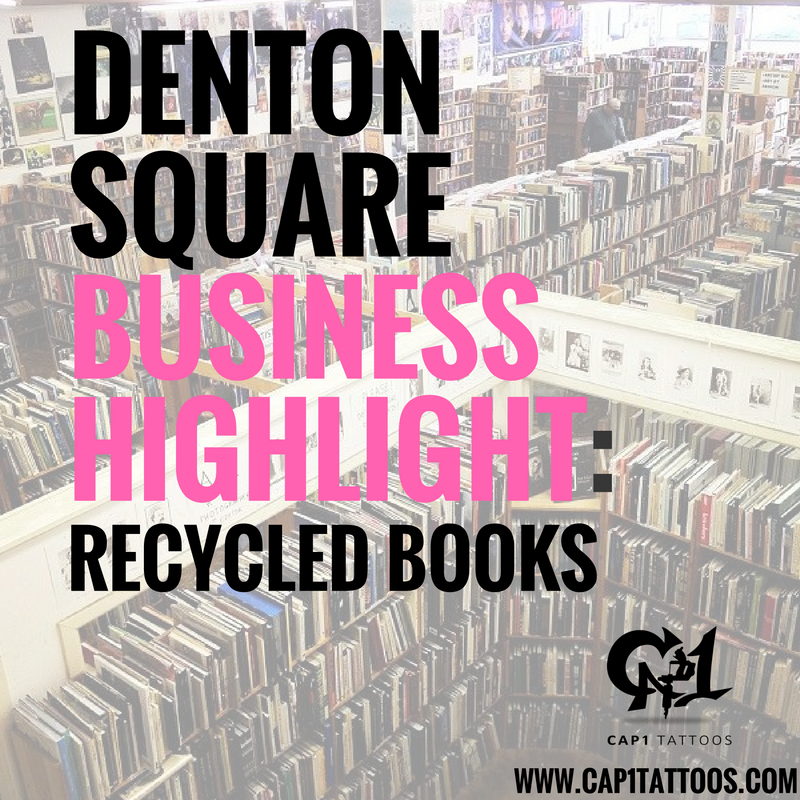 Books
Heaven for those who consider themselves to be a bit of a bookworm, there is nearly half a million books available for purchase on the shelves of Recycled Books. They span over three floors of winding corridors where you can find half priced books in Literature, Mystery, Sci-Fi, History, Texana, Science, Psychology, Art, Children's Books, Cookbooks and more. If you want to read it, chances are they have it.
Movies
For the movie buff, the also have thousands of movies. From Blu-Rays, DVDs and even VCR, all of their movies are guaranteed to play without any problems. Their collection covers all genres from wide releases, independent movies and cult classics. They also have television series and documentaries.
Vinyl Records
With over 20,000 CDs and 15,000 records spanning a wide variety of genres, you can easily find something by your favorite artist. Just like with their movies, they only sell records and CDs that are guaranteed to play perfectly. Find your favorite music of a new artist or even one that you haven't listened to in a while.
There is always something fun to do on the Denton Square while you wait for your artist to finish your tattoo design. If you're looking for custom ink in Denton, Texas, contact Cap1 Tattoos today to set up your private consultation.