Bringing Your Friend to Your Tattoo Appointment
09.28.16
Getting a tattoo, especially your first one, can be a little nerve-racking, and that's okay. You can always bring a friend to your tattoo appointment, but there are a few things your need to consider before doing that. Today, Cap1 Tattoos in Denton, Texas is going to tell you about some of the things to think about before you bring a friend with you.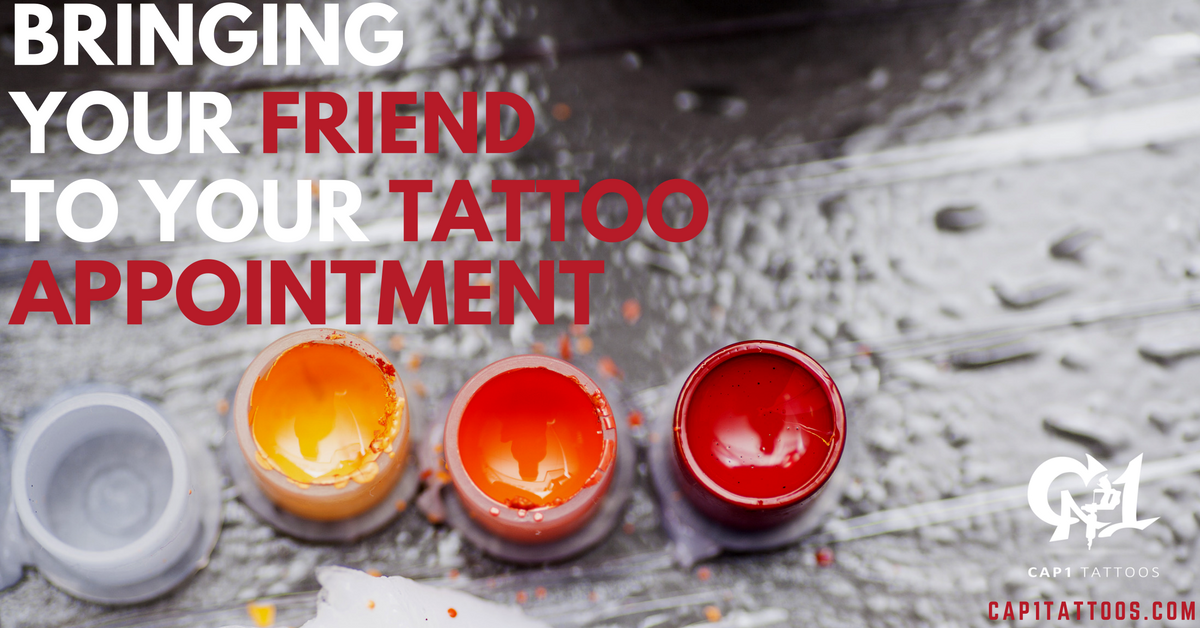 Do Not Bring a Big Group
While it's completely fine for you to bring a friend to your appointment, there's no need to bring a big group. In fact, that's exactly what you should not do. Having one friend sitting close by is okay, but a big group is just distracting to your artist and will make the workspace feel very congested.
Bring a Friend That Can Occupy Themselves
The best kind of friend to bring is one that can keep themselves busy. Whether they're playing on their phone or reading a book, if they can keep themselves occupied then they are welcomed to join you. A little bit of talking is okay, but you don't want someone that will distract your artist.
Possibly Travel in Separate Cars
If you plan on getting a large tattoo, understand that they will take longer to complete. That means that if your friend isn't willing to sit with you through the whole appointment, it may be a good idea to travel in separate vehicles. However, if the two of you are traveling from far away, you can ride together and your friend can also leave to do something on the Denton Square. They could get coffee at West Oak Coffee Bar or explore the selection at Recycled Books.
At the end of the day, if you will feel more comfortable having a friend with you at your tattoo appointment, you are more than welcome to bring them. If you're ready to get your custom body art near Dallas, Texas, contact Cap1 Tattoos on the Denton Square today to set up your private consultation.