4 Tips to Get into the Tattoo Chair Faster
03.02.17
Every person with more than one tattoo knows what it's like when you start craving to get some fresh ink, and the last thing you want to do is wait. Simple designs can be handled by most artists available to walk-ins. That's not the case if your heart is set on getting a more intricate piece. That's why Cap1 Tattoos in Denton, TX is sharing these tips to help you get in the chair and get some new body art as quickly as possible.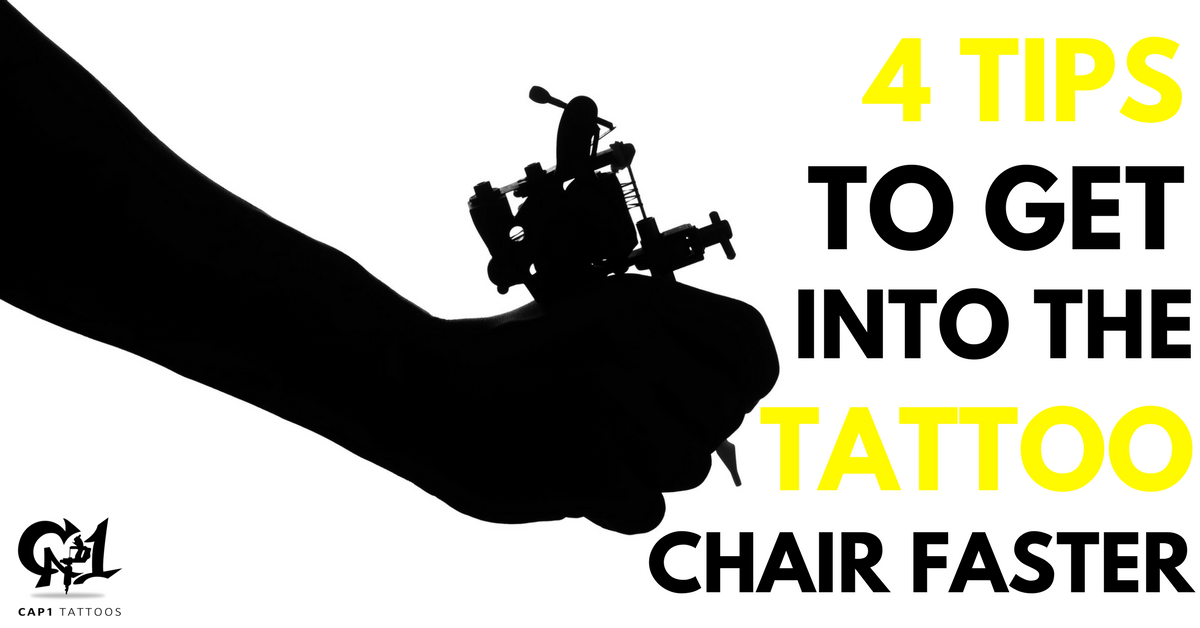 1. Know What You Want
While you don't have to know exactly what you want, it will help your artist design the best piece possible if you can give a broad idea of what you want. Even something as simple as subject matter whether it's a lion or a rose can help to get the ball rolling.
2. Provide Reference Images
Once you're able to tell your artist what you want, that's great. However, taking it one step further and being able to give your artist reference images is sure fire way to get the design process started much quicker. If you're not sure about where you can find great reference photos, take a look at the Cap1 Tattoos Pinterest! There, you can find everything from wonderfully beautiful flowers to more macabre images.
3. Know Approximate Size and Placement
Sometimes, you think more about what tattoo you want to get that you forget to consider where on your body you might want it to live. For the most part, the placement and subject will dictate just how big or small your tattoo could be. One of the best ways to tell your artist is if the tattoo would be bigger or smaller than your hand. Knowing this will help them determine how long the tattoo might take.
4. Communicate With Your Artist
Finally, if you want to get in the tattoo chair faster, communicate with your artist. When you first contact Cap1 Tattoos, we'll reply to the email that you provide to us. Emails are the best way to communicate with your artist about your design because then it allows them to see it all in one place.
At the end of the day, artists like Capone want to get you into the chair as soon as possible too because he truly loves the tattoos he creates and the people he meets. If you're ready to get some fresh ink, contact Cap1 Tattoos in Denton, Texas today!